Disclaimer: This is NOT an official installation guide for Mango (or any WP7 update) and is not supported by Microsoft. Using this process to upgrade is your own decision, any problems caused by this process are your own responsibility.
Today Microsoft released the news we've all been waiting for: Mango updates are being rolled out !! However, like all previous updates, only a lucky few (10 percent) will get the update in the first week. If everything goes smoothly (remember the Samsung Omnia 7 problems with NoDo), this will be pulled up to 25% and after another 1 or 2 weeks to 100% of Windows Phone 7 customers.
With the NoDo update I patiently waited for over 3 weeks, in vain. I know, I must have been mad to wait that long. But eventually, I got impatient and ended up "forcing" it upon my own device. Now with Mango, I sure won't wait several weeks for it, sorry Microsoft.
Now how to do it?
First check if you're not getting the update pushed already, you can find this under Settings –> Phone –> Update. In my case I got the sad trombone: "Your phone is up to date" with 7392.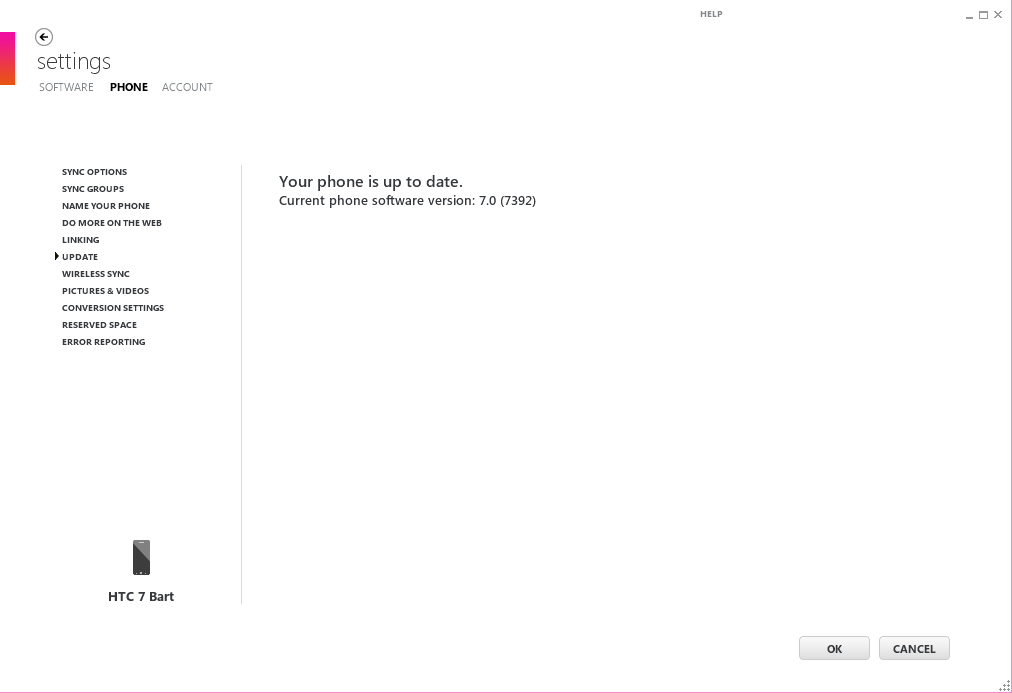 Repeat this last step to check for updates, but be ready to turn off your internet (WLAN/Ethernet) after 1-5 seconds. The exact timing depends on the speed of your connection. With the NoDo update I needed about 3 seconds, for Mango I had to turn it off after 1 second already. If you happen to fail, just retry and change your timing a bit. I got it right on the 5th try and I say it's well worth spending a few minutes on! When you get your timing right, you will normally get the update to 7403, which is an "in between" build just before Mango.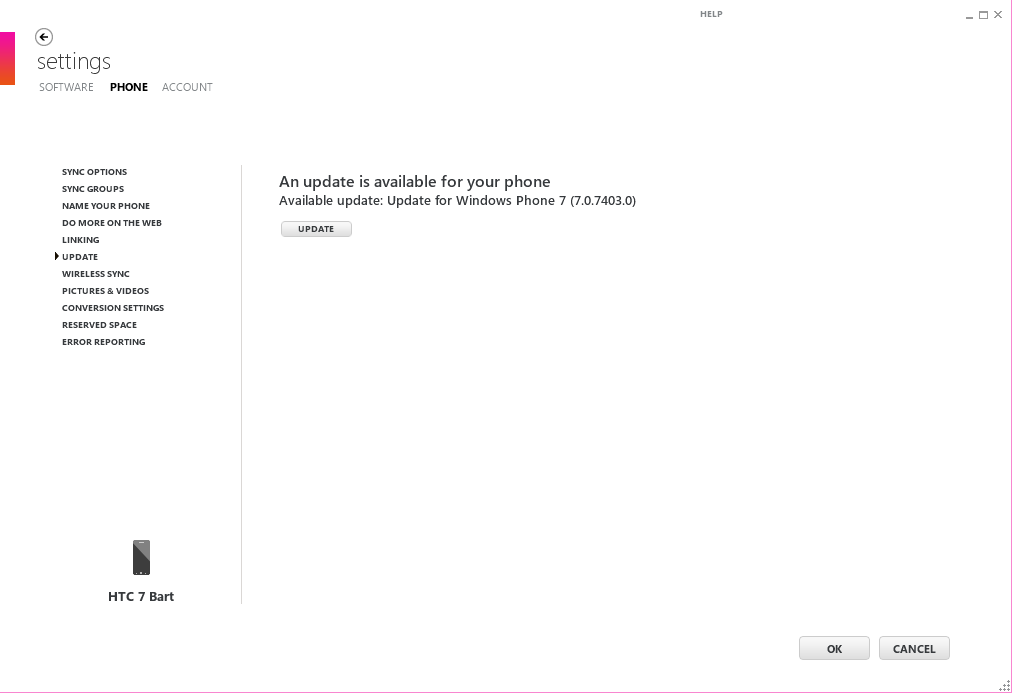 From this point it's quite straight forward. Turn your internet connection on again and hit Update. Sit back and relax while update 7.0.7403.0 is getting installed.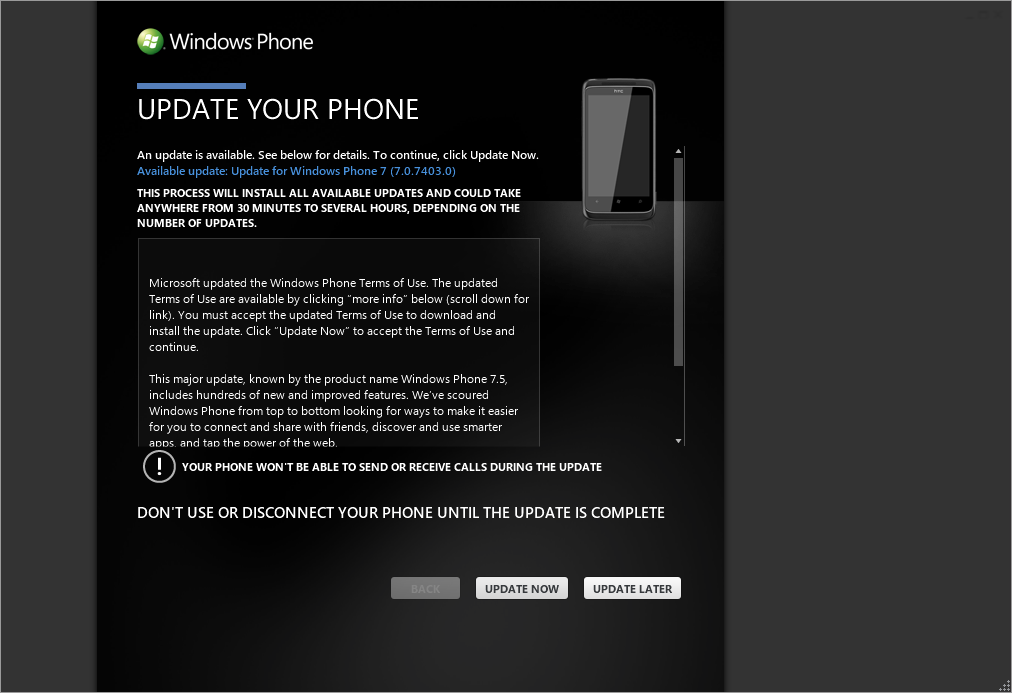 And now the best news: once your phone did reboot after the installation, you should get the notification on the phone that a new update is available. Switching back to Zune I noticed Mango (7.10.7720.68) was downloading already!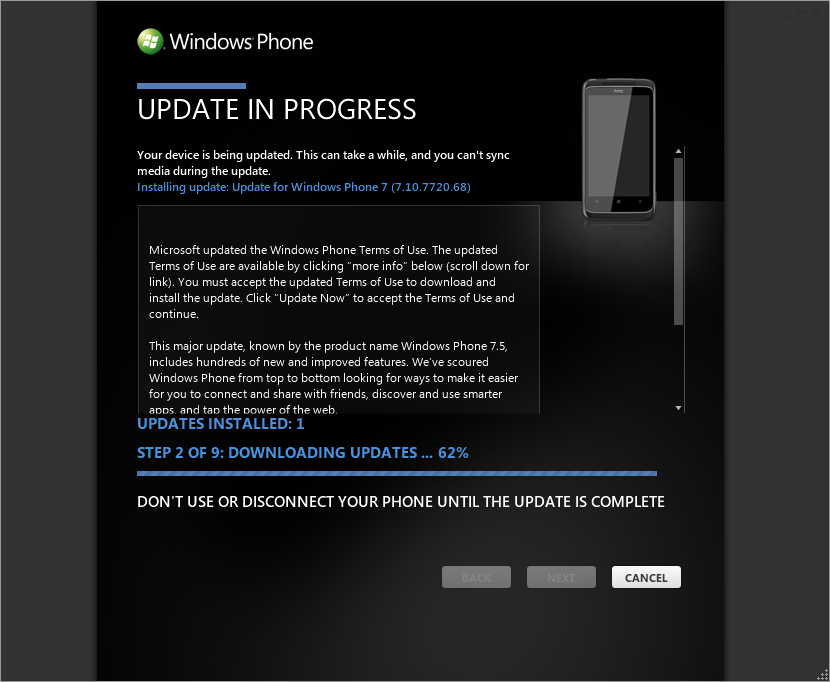 The whole process, including backups and both installations took about 40 minutes.